Cloudpunk
Developer: Ion Lands
Available On: Windows, Nintendo Switch, PS4, Xbox One
Price: $19.99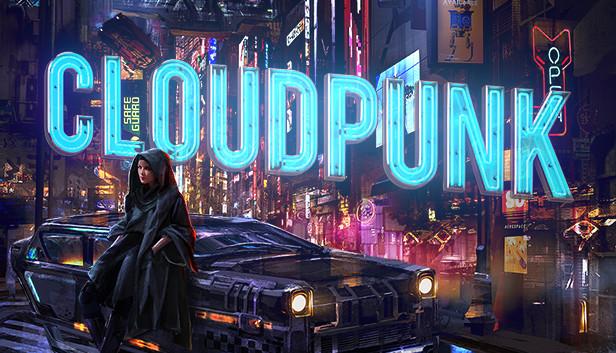 Cloudpunk does what any good cyberpunk game should do: reach into the guts of society, show us what a dystopia looks like, and why we should do all we can in our power to avoid it. In a world where you can be brought back to life in order to pay your debts, when does life truly end? Where does serenity begin?
You play as Rania, a young woman who has just moved to Nivalis, the only city left in existence and one filled with such disarray, it cannot go even twenty minutes without a mass accident. Rania had to leave her home of the Eastern Peninsula, somewhere you can see the sun and sky, where most people are farmers, and automata seem to have more rights to exist than in the city.
Unlike most dystopic and cyberpunk games, Rania is a regular person with no superhuman talents. Everyone can see she's a foreigner in her walk. They make incorrect assumptions about her as a poor Arab woman, but she takes them all in snarky stride. She's not a cop, hacker, or bureaucrat. She just wants to survive.

We meet Rania on her first shift working at Cloudpunk, an illicit delivery company, accompanied by her Automata dog, Camus. She is the child of a woman in debt, so she has left home to try to make some money after the DebtCorp took everything from you, including your mother and Camus's literal body frame. In the meantime, she has to make do with installing him in her HOVA (flying car).
The job is simple. You get your assignments from a man only known as Control, the voice in your ear. You pick it up. You deliver it. There are only two rules: don't open the package, don't ask what's in it. But an adventure game could never be so simple, could it?
As the night goes on Rania learns that everything isn't what it seems, whether it's the rich up in their towers in the Spire, the famous singing their songs for all to hear, or even the gruff old man who gives her all of her assignments. She has to make moral choices, something she didn't anticipate when signing to work with Cloudpunk, but something expected by Control. He says that most people never make it past their first night on the job, whether that means drivers unable to do the job well or dying in one of the mass accidents is unclear.
Driving through Nivalis is a delight. After having finished Watch Dogs: Legion, where driving is a nightmare, Cloudpunk was a welcome break. Your HOVA isn't difficult to maneuver, despite being a flying vehicle, and it has real weight as you try to align yourself with parking lots and gas stations. You can buy upgrades for the HOVA, cosmetic ones like the color of the trail you leave, and functional ones like speed boosts. The vehicle can take quite a bit of damage, but let it take too much and you have to take it to be repaired. None of these simulation elements are stressful though: they merely add to the realism rather than happen so often you can't progress through the story.
Something I have wanted every game I have ever played to have, but for some inexplicable reason developers always overlook, is done here: nothing is more important than the dialogue and narrative of Cloudpunk, so when you go from one part of the city to another, the dialogue always continues. You never have to worry about missing something as you are encouraged to keep driving and walking while having your conversations, much like real life.
There are a couple of off-putting aspects of navigation within the game. When you walk around, for some reason you can't walk in any direction as the camera must always be at Rania's back. You always have to move the camera manually to have Rania walk properly rather than in a strange side-to-side shuffle. When you're using stairs (which is rare), the whole screen shakes like a mini earthquake. And despite this being a driving game, you can't get paths of how to drive places. While I made it everywhere only using my nav point, I didn't realize until I was ¾ through the game that I had a map I could open. A tutorial on the controls at the beginning would have helped significantly.
What Cloudpunk struggles with in the UI, it more than makes up for with its art design. Even when going into the dredges of society, you are wrapped up in its beautiful atmosphere. Its voxel art style serves as another metaphor for seeing every building block that makes up Nivalis and making all characters indiscernible until actually spoken to. The lighting is gorgeous whether coming from apartments, storefronts, or neon signs. It's rare one gets to truly explore a cyberpunk city in a game, and this one lets you weave through and around all the towering skyscrapers and explore their exteriors. There are merchants, food stands, and nightclubs to go to and pedestrians bustling all through the city.
You are also able to see the world in a variety of ways, you can walk around and see through Rania's eyes in first-person mode, zoom out a little for third-person mode, or even zoom out entirely to explore the whole area like a shoebox. You can drive in similar ways, first-person with the windshield wipers always on, careening around corners, or third-person for less motion sickness and the ability to see what's around and ahead of you.
The soundtrack is designed to perfection with the ever-constant pitter-patter of rain, neverending dystopian advertisements echoing through the streets, and the sound of traffic in the distance or up close. The score by Harry Critchley also adds to the atmosphere, whether racing to get somewhere in time or simply driving around. It's some parts Vangelis, some parts its own addition to the cyberpunk genre.
This is an open world game with so many places to drive to, and so many characters you can run into for one-off conversations as you walk around, its city feels truly alive. Along the way you will run into all kinds of characters on Nivalis's streets, like an android gang that asks what could be more punk and illegal than building playgrounds for children? CorpSec, the corporate conglomerate of this world, only wants things that will make them money—even murder is more legal than something free for kids.
Other times you get fascinating clients like Huxley, an android who is straight out of a pulp noir. He can't help but talk about everything in the third person, and there is nothing funnier or better written in the game than his dialogue. I felt like I was watching an old school film with him cast as the hard-boiled detective as we untangled a mystery that went deeper than I expected.
Never have I been so surprised by a game set in the future. I come into cyberpunk games expecting one kind of thing, but Cloudpunk's the first to give us something else and delve into the genre a bit more. And when it's not doing that, there's nothing better than just standing, looking around, and hearing Nivalis. You'll feel infinitesimal in this city that never sleeps.