Uncharted: Drake's Fortune
Developer: Naughty Dog
Available on: Playstation 4
Price: $19.99
Last year I played Uncharted: Lost Legacy, my first Uncharted game. I enjoyed it so much I wanted to try the previous games. PlayStation Plus offers two free games each month, and January's was Uncharted: The Nathan Drake Collection. Packed in this collection are three out of the five games in the series, allowing me to finally try them.

Uncharted: Drake's Fortune is a fine entrance into the series, introducing us to Nathan "Nate" Drake, the self-proclaimed descendant of 16th century English pirate/slave trader/colonialist, Sir Francis Drake. Nate is a treasure hunter as well and has just discovered his ancestor's coffin, leading him on a chase to find El Dorado. Accompanying him are Elena Fisher, a journalist filming the whole journey for her TV show, and Victor "Sully" Sullivan, a longtime friend and mentor of Nate's.

With great voice acting, funny dialogue, and good AI, Sully and Elena feel like actual companions on your journey, not animate objects. They can help you, whether it's lifting each other to reach high spots, joining you in combat (much appreciated when you're as bad at shooting as I am), or even providing a lighter to move the story along. There are nice touches for added realism with Nate, like how he'll mutter to himself when he has to jump onto the umpteenth ledge or needs to mentally prepare himself for a wild stunt.
The game is clearly inspired by Indiana Jones. That sequence where the bridge starts breaking and we get a view from the front as we watch it fall apart behind him was straight out of a movie. Complementing these sequences is a dynamic, soaring score that fits the game perfectly. The sound design is well done too, such as when a grenade goes off near Nate, everything sounds muffled.
The remastered graphics were great, especially for a game from 2007. You spend most of your time in the jungle and a bit inside ancient caverns and industrial areas. The jungle locations do become a bit repetitive by the end of the game, but overall there is a nice ambience to it.
Nate's animations were surprisingly fluid for an older game, with him jumping and gripping onto ledges in different ways, wincing and stumbling when he's grazed by a bullet, and landing from great heights in a more realistic manner than even some modern games. I later realized the characters felt so realistic because they are motion-captured by their voice actors throughout the series from cutscenes to action scenes.
The gameplay largely consists of platforming and shooting. You'll spend your time jumping around and climbing walls or hiding behind cover and shooting at people. There's a discrepancy in the feel of the game between these two forms of gameplay; relaxed and unthreatened platforming versus neverending firefights that kill you repeatedly. Sometimes these fights were too relentless. I would get through one section and then there'd be another, and another, and another. If I died, to add to my frustration, it would restart me from the very beginning. It should at least save a checkpoint after each wave.
Drake's Fortune was released in 2007, so I understand some of my complaints are likely unfair but I must make them. The controls can be quite clunky at times. I wish they had done some overcorrecting with the platforming as sometimes Nate would miss a jump I intended to make dozens of times in a row.
 On the other hand, he is an unbelievable athlete, jumping to heights no mere mortal could. It may seem unrealistic, but it makes sense in the context of an action-adventure and keeps the game moving without having to get stuck as often as you could in other games.
The jet ski section was a nightmare. Either let me drive the jet ski or shoot the gun, but do not make me do both. I died in that section so many times because I don't have four hands to be doing so many maneuvers at once. I much preferred it when Elena was driving the jeep and Nate was covering them. I didn't have to worry about hitting anything while driving and could instead focus on doing what I do best: murder.

Enemies will attack you in a few ways: shooting, grenades, and melee combat. You have to stay behind cover and usually avoid getting close (unless there's only one enemy left) because Nate can only take so much damage. You can't stay in the same place for too long either because enemies will eventually come closer and start flanking you. If your cover is fragile, they can even break past it.
Something unique to Drake's Fortune that many games could take their cues from is its hint system. Often, characters will guide you to the next step through natural conversation, just in case you're unsure of what to do next. If you still haven't solved the puzzle after some time, you'll be offered a hint instead of being forced to receive one. If you so choose, the camera pans in the direction of whatever you need to interact with or where you need to go and a quick sentence tells you what you need to do.
 I never found the game frustrating in terms of puzzles because if I did get stuck (which wasn't often), it would help me along. As someone who mainly plays adventure games, I am all too familiar with impossibly difficult puzzles.

In the third act, the story shifts into something completely unexpected and not something I enjoyed. For the first two acts, the story had been fairly grounded in realism, but suddenly there was a curse on the island that was turning people into some sort of zombie creatures. Up until then, I had been thinking it was nice to play a shooting game with no horror elements since that's usually the kind of game I get roped into playing, but that wasn't the case after all.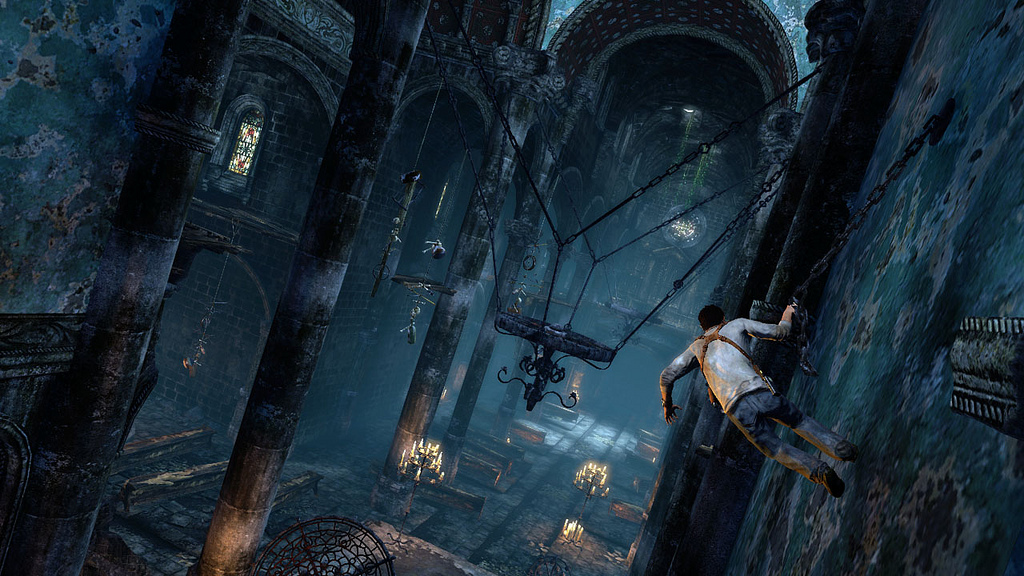 The most infuriating sequence for me, to the point that I even had to lower the difficulty, was when Nate and Elena had to outrun these creatures. No matter how many variations I tried of shooting, rolling, and running, I could not get it. The time I did get it was a miracle and through sheer luck. I was just glad the majority of the game wasn't spent dealing with these creatures.
Something that isn't atypical to any media is the inclusion of a female character solely to be a romantic interest for the male protagonist. While Nate and Elena never kiss (thankfully), there are classic moments like falling and landing on top of each other and it is implied at the end that something romantic is about to happen between the two. There was also the archetypal older cigar-smoking mentor, Sully, who had some classic old-school misogynist lines but was still supposed to be likeable. These archetypes are common for a reason and they don't feel out of place with Indiana Jones's descendent, but they're still disappointing to experience all the same.
Overall the game is compelling but the weakest of the series. While I'm glad I experienced it once, I wouldn't play it again. I've told others unless you really love shooters or want the basis of the story and its characters for the rest of the series, you can skip it. The later games in the series are so much better than what I thought could be possible after Drake's Fortune. Still, it was good enough to keep me entertained for its ~8-9 hour runtime.