Draugen
Developer: Red Thread Games
Available on: Steam, GOG
Price: $19.99
Warning in the game for discussions of emotional abuse, suicide and seeing someone jump off a building and their body laying limp on the floor (no blood or gore).
Draugen comes from Red Thread Games, the studio that brought us Dreamfall Chapters, and, Ragnar Tørnquist, the mind behind The Longest Journey and Dreamfall: The Longest Journey. It's a Fjord Noir that takes place in 1923 Norway and delves into grief and trauma. You've come to the coastal, desolate village of Graavik in search of your sister, Betty. She's a journalist, and the last you heard from her was a letter she wrote you mentioning this town. You manage to get in contact with a family there and take them up on their invitation to visit and stay with them.
You play as Edward Charles Harden, a well-read, serious man from Hanover, Massachusetts. He is voiced by Nicholas Boulton, who also voiced Kian Alvane in Dreamfall Chapters and male Hawke in Dragon Age II. His voice is low and earthy, fitting the melancholic character. His performance is almost surprisingly realistic, when he reads and translates something he'll pause, mumble to himself, and clear his throat the way someone would if they weren't simply reading a script.
Draugen's tagline, "I am not alone," is ironic because you spend much of the game in isolation despite having a constant companion named Lissie. Her relationship to you is unclear, Draugen's marketing only ever refers to her as Edward's ward. She's an eager, quirky 17-year-old whose favorite pastime seems to be teasing "Teddy Bear" (her endearing nickname for such a stoic man). She somewhat serves as the manic pixie dream girl to Edward, but eventually does become tired of his ego, though that too is in service of the plot and pushing his story along.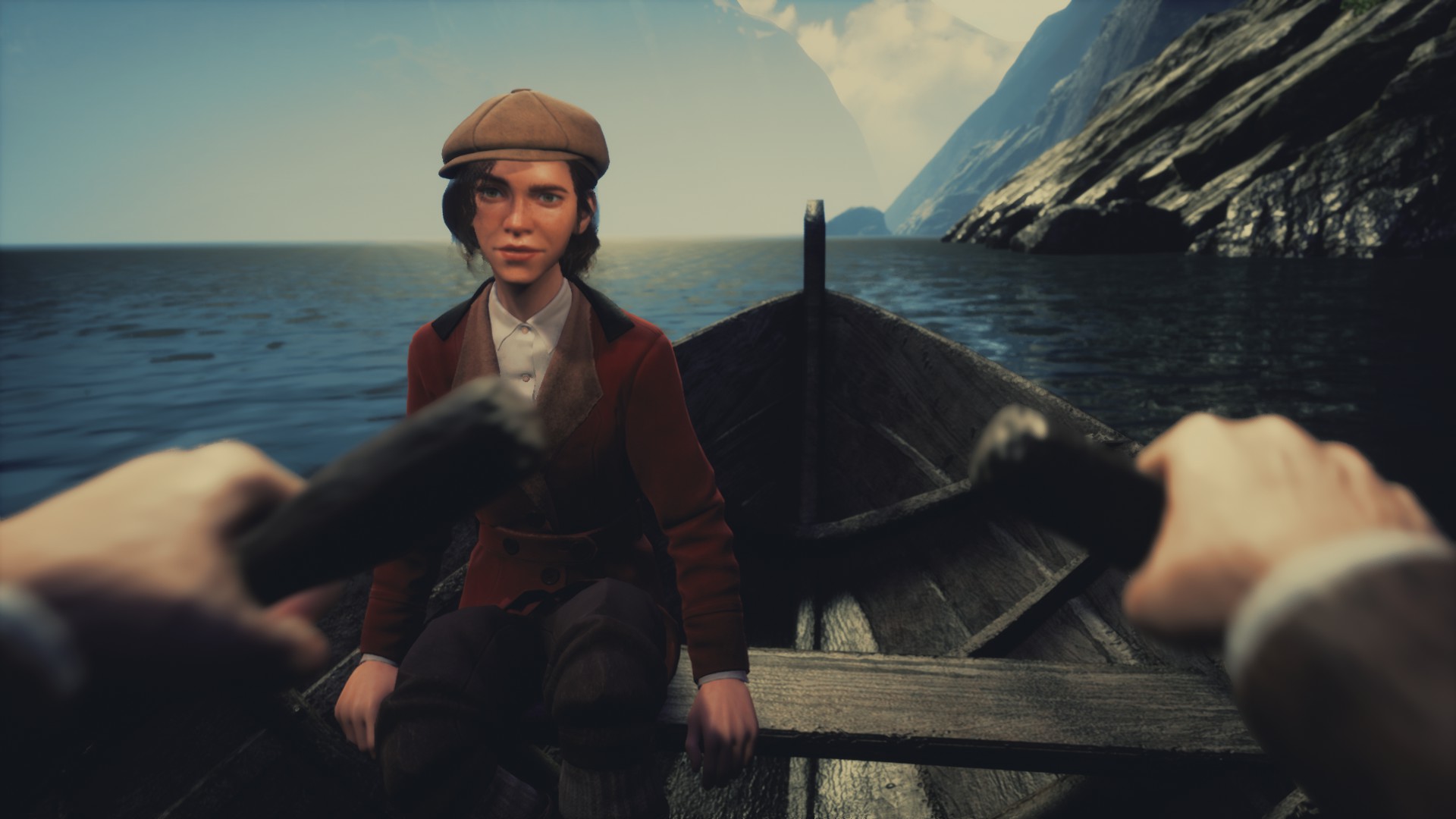 Lissie is voiced by Skye Bennett, who does a fantastic job of making her feel grounded. Sometimes she is like a petulant child, other times she's wiser than Edward. There are delightful touches like when you turn away from her while she's talking. She'll call you out on it, saying something like, "Can you look at me when I'm talking to you?" She was animated through motion capture and you can see the fluidity and realism with which she spins, does handstands, and leans on her hand as she sits at a table.
The scenery and architecture of the world are gorgeous, and I have seen numerous people say it really feels like the West coast of Norway. You have many chances to sit and watch the ocean, draw various buildings and homes, and study the trees. The atmosphere sways from peaceful to tense with ease, and the lighting and weather change to reflect the story and Edward's state of mind. There is even a moment where if you look up to the sky it looks like you're underwater gazing to the surface. The score by Simon Poole (Dreamfall Chapters, The Secret World, The Park) elevates the unease and suspense in a game that begs you to take it slow.
I'm going to fully spoil a plot twist now, so skip the following paragraphs if you want to walk into it unknowing.
Edward is advertised as an "increasingly unreliable narrator," and the true meaning of this comes alive midway through the story. You discover Lissie isn't real, she seems to be a figment of Edward's imagination. She's been getting increasingly annoyed and jealous of the importance Betty has to Edward (it's the whole reason they're in Graavik, after all). She becomes angry and disappears, and a statue of an angel only called The Entity speaks to you. I don't fully understand who either of them are supposed to be, but it is made clear that they are Edward's coping mechanisms for his sister who drowned when she was a baby, his mother who committed suicide because of it, and then his father who also committed suicide.
At this point, everything we've learned comes into question and we can't trust anything Edward says or does. As someone who takes mental health seriously, the notion that Edward was simply schizophrenic (or something similar) all along leaves a bad taste in my mouth. Mental health can be a great way to explore a character and different themes (the show Crazy Ex-Girlfriend being my personal favorite and what all media should aspire to), but it can also be used foolishly by neurotypical people who don't understand whatever illness(es) they are merely using as a plot device. I don't claim to know the backgrounds of anyone at the studio, but Tørnquist did say he doesn't have any experience with hallucinations himself.
What was the point of revealing Edward has a mental illness if he's not going to do something about it? Doesn't have to be something healthy, but I'm expecting some sort of reaction. He's clearly endured immense traumas and when you reveal that information, I expect some sort of work to be done on it. You can't simply mention all these things in passing without fully exploring them.
Spoilers over.
Something interesting is this first look at the game before its release. It's stunningly different from the final product, from the reason Edward comes to Graavik to the gameplay mechanics themselves. It appears that the studio intended for the game to lean more heavily on horror and experimental gameplay than it ultimately did. I wonder if the reason the whole story and mystery seem to have been reworked was a lack of time and/or budget. Was part of my disappointment a result of things outside of their control?
The initial mystery is intriguing as you explore locations, discuss things with Lissie, find letters, and more. The third act is when things begin to unravel. The trail you spend the majority of the game investigating gets no real conclusion. What you've learned about Edward is only mentioned in passing. As the game ends, Lissie asks you what you think happened in the village, but you never got enough concrete evidence to have a particular viewpoint. Questions are largely left unanswered. While I don't expect everything to be tied up into a neat bow, I do expect some sort of conclusion. I realize Draugen may be commentary on not getting closure, but it doesn't sit right with me. This was a case of potential left by the wasteside.
The game's credits end by telling us Edward and Lissie will be back. This makes me wonder if the sequel will give a satisfying conclusion to the story. Still, I expect more closure from a game, even if there will be a sequel. As Aaliyah said, "We Need A Resolution."