Backbone: Prologue
Developer: EggNut
Available on: Steam
Price: Free
The first thing I noticed when I stepped outside in Backbone was how unbelievably beautiful and atmospheric it was. This is exactly what I have been waiting for. This isn't just pixel art, this is pixel art with layers, dynamic lighting, parallaxing! It's set in dystopian Vancouver (where the game studio is located as well) at night in the rain, as any good noir should be. I don't know if that'll be the consistent weather and time throughout the full game, but I sure hope so! The sound is exquisite in capturing the precise mood: the ambient talking, rain, and even soft jazz in the background helps set the mood so perfectly you'll start thinking you really fell into this world. There's so much going on, no detail too small, but it's not overwhelming either. You can look far up into a window and see different animals just living their lives in their cramped apartments. When you go on a rooftop, the cityscape is just gorgeous. This is some of the best art I've seen in a game, period.
This is just the prologue, demo, proof of concept, etc. but this has got my excitement through the roof, and since it's free I encourage everyone to try it because screenshots don't do it justice. Seriously. I'm disappointed I missed the Kickstarter for it, but I'm definitely getting a digital copy of the art book. OK! I couldn't talk about anything else until I gushed over the game's beauty, but I'm back now.
In Backbone you play as Howard Lotor, a detective who happens to be a raccoon. This is a world of anthropomorphic animals, and from my brief introduction to the world, it seems raccoons are low on the social ladder. He can't get into clubs and people bully him simply for being who he is—injustice is going to be a prominent theme here. The world is described as a retrofuturistic dystopia by the developer, so I'm interested to see how that will be depicted in the full game. The Kickstarter describes the story being much more than we see in the prologue (enough that I am shocked by the turn the full game is going to take), and I'm sure it will be done well. The glimpse of story and characters we see here are written with the same fine-toothed comb the art was created with.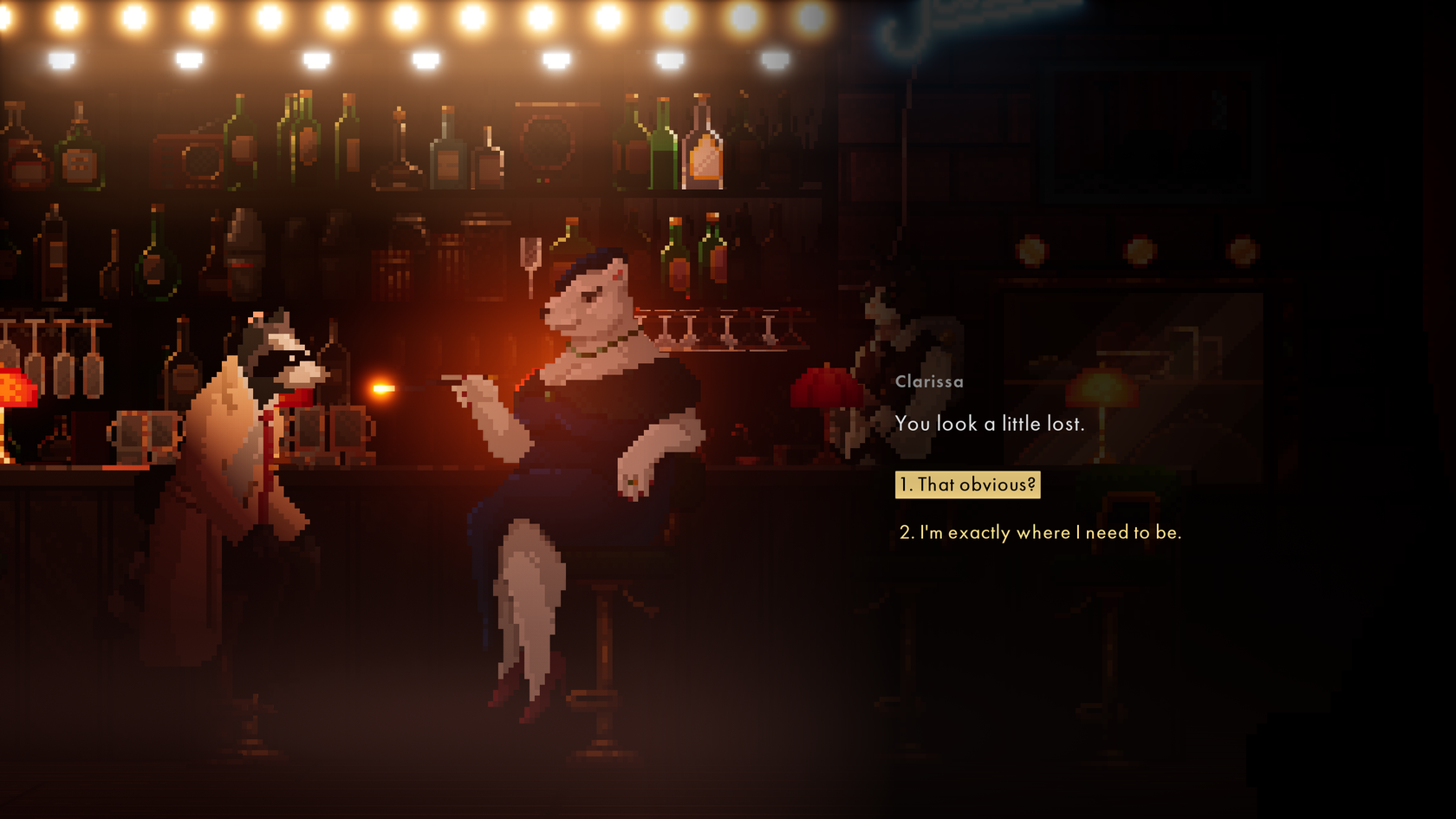 Right now Backbone has a mixture of elements where you use both a keyboard and a mouse, which I am not a fan of. See, this is a point and click adventure game and point and clicks are usually played entirely with a mouse. Having to switch back and forth between my keyboard and mouse isn't something I'm used to when I'm playing a game like this, and it can get confusing and tiresome. I would appreciate if they instead stuck to one method, or at least give us the option to change our controls to that (which I'm hoping they will later) as this is my biggest complaint and an important one.
The gameplay is interesting and has different elements. You start off interviewing the character who gives you a case, but trying to do it without upsetting her to the point where she won't want to say anything else is harder than it seems. You have different possible paths to solve a puzzle and different dialogue options that can make or break your case. There is even stealth, which usually I hate, but here it actually wasn't too annoying. The restrictions created by a point and click make stealth much less frustrating than in other genres. This is definitely going to be an ambitious project because I can see from the Kickstarter they're planning to have some action in the game too. There are many different components to the game that make me curious about what the end result will look like.
Of course with crowdfunding campaigns developers tend to be more idealistic than they can handle, but from what I'm seeing here I can't imagine anything they may have to remove or significantly change degrading the quality of the game too far. Even from this simple prologue you can see that Backbone's got style.